Episode 022: Haunt Owners Association, pt2 (Fiasco)
EPISODE 022
Haunt Owners Association, part 2
Fiasco – Toil & Trouble w/ the folks from Gosh Darn Fiasco
FOLLOW on iTunes FOLLOW on Google Play
---
"I want to commit the murder I was imprisoned for."
― J.K. Rowling, Harry Potter and the Prisoner of Azkaban
A wizarding school only has its student's well-being and magical education at heart, right? This week we team up with Angela M Webber (of the Doubleclicks) & Richard Malena (Angela's co-host on Gosh Darn Fiasco) and their friend Kenna Conklin (co-host with Richard on Going Last). We've also got John's former New To You Show co-host, Mary Varn (of NPCcomic.com)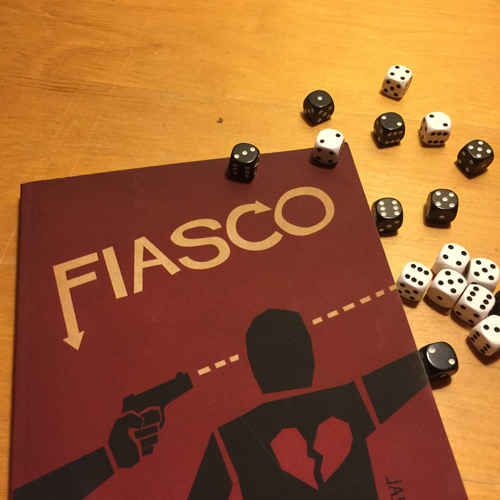 To learn more about how Fiasco is played check out our primer episode.
Previously:
EPISODE 021 // Haunt Owners Association part 1 // Fiasco
---
The characters for this game:
Parsnip McBobbleehat (Angela M Webber) – Founder of House Bobbleehat, now a ghost who inhabits the school.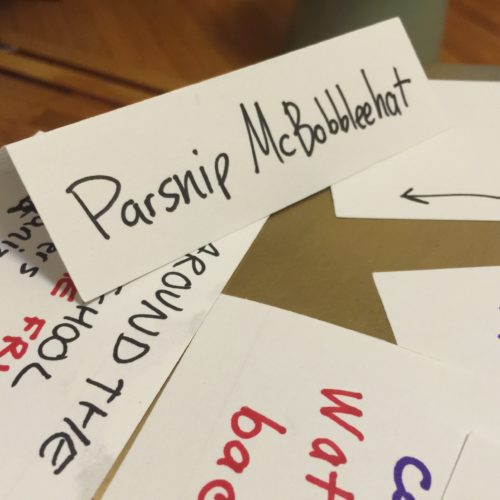 Hyacynth Rosemary (Kenna Conklin) – The first year student desperate to make friends.
Nicholas Lindbergh (Richard Malena) – A student repeating a year and doing some extra-credit with Professor Beachum.
Prof. Remedy Beachum  (John Holt) – Magical Medicine Professor with a preoccupation with dark magic.
Prof. Dolores McBobbleehat (Mary Varn) – The sister of Parsnip, Professor of Magical Home Economics.
---
The grid for this game:
Between Angela & Kenna: Members of a Secret Organization w/in the School
Between Kenna & Richard: One of them took a Love Potion
Between Richard & John: One Teaches the other dark and unspeakable magic in private
Between John & Mary: Fellow Professors
Between Mary & Angela: Family, Sisters
There are two NEED elements:
– The Need to Get Respect from the Entire School
– The Need to the Truth about the week I have no memory of
There is a LOCATION element:
– The Groundkeeper's house

There are two OBJECT elements:
– A rumor that the school is built on a gravesite and the ghost are angry
– A magic watch that can turn back time
---
The TILT:
Going into Act II we've generated our two TILTS: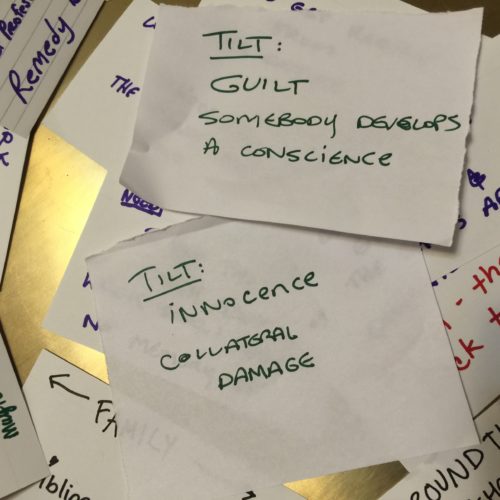 INNOCENCE: Collateral Damage
GUILT: Somebody Develops a Conscience
---
Find Angela on twitter @angelamwebber, check out her band The Doubleclicks, and her fantastic Fiasco series Gosh Darn Fiasco.
Find Richard on twitter @rmalena and check out his youtube series Atomic Game Theory
Find Kenna on twitter @goinglast and her podcast w/ Richard Going Last
Find Mary on twitter @maryvarn and her comic npccomic.com
Find John on twitter @LordJoho
Follow us on twitter @boredghostworld
Our Bored Ghost theme song is by the amazing Pat Cupples, see his band website Hotels and Highways.
Bored Ghosts we hope you found some distraction from your eternity in the void this week!