Episode 012: Mr & Mrs Dadeed pt2 (Ribbon Drive)
EPISODE 012
Mr & Mrs Dadeed, part 2
Ribbon Drive
FOLLOW on iTunes FOLLOW on Google Play
Previously in our story:
EPISODE 011 // Mr & Mrs Dadeed. part 1 // Ribbon Drive
---
"The French have a phrase for it. The bastards have a phrase for everything and they are always right. To say goodbye is to die a little."
― Raymond Chandler, The Long Goodbye
Ribbon Drive, by Avery Mcdaldno is a game built around mixtapes and road-trips. This story takes place over the course of two mixtapes. We all love making a mixtape, so the setup for this game was a joy. In this episode John gives a prompt at about 3 minutes 4 seconds to begin playing the mixtape in sync with the show, but it doesn't need to sync up perfectly.
Mixtape 2: Optimism in the Face of Self-Destruction
This is the Day – The The
Disconnected – Cowboy Mouth
A Step You Can't Take Back – Keira Knightley
This Year – The Mountain Goats
I'm an Albatraoz – AronChupa
God Help The Girl – God Help The Girl
Disneyland – Five For Fighting
El Manana – Gorillaz
Stand Up – The Cab
Wild Things – Alessia Cara
Only Happy When It Rains – Garbage
Roam [Edit] 45 Version – The B-52's
Babylon – David Gray
Never Let Me Down Again (Remastered) – Depeche Mode
Hang On St. Christopher – Tom Waits
London Calling – The Clash
Birdhouse In Your Soul – They Might Be Giants
Folsom Prison Blues – Johnny Cash
---
The characters for this game:
Chip Hanley (Ken Breese) – Ex-cop turned P.I. is the personal fixit guy for the Dadeed family.
Charles Matz (Brian Jones) – Childhood friend of the Donna Wilson, bride-to-be, he is a recluse who still holds a torch for Donna Wilson.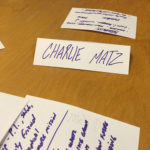 Phoebe Wilson (Stacey Douglass-Moverely) – Sister to Donna Wilson, she is not convinced that this union is the right thing for her sister.
Peter Dadeed (John Holt) – Youngest child of the affluent Dadeed family, he idolizes his older brother and groom Jacob Dadeed.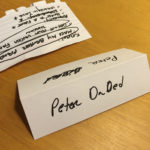 ---
Ribbon Drive's creator Avery Mcdaldno is an amazing designer who's work and dedication to story is one of the inspirations for us in starting this show.  Please explore her work on Buried Without Ceremony.
Find Ken on twitter @BerlingsBeard
Find John on twitter @LordJoho
Find Brian on twitter @alowroar
Find Stacey on instragram @stadomo
Follow us on twitter @boredghostworld
Our Bored Ghost theme song is by the amazing Pat Cupples, see his band website Hotels and Highways.
Bored Ghosts we hope you found some distraction from your eternity in the void this week!