Episode 011: Mr & Mrs Dadeed pt1 (Ribbon Drive)
EPISODE 011
Mr & Mrs Dadeed, part 1
Ribbon Drive
FOLLOW on iTunes FOLLOW on Google Play
---
"If you have a story that seems worth telling, and you think you can tell it worthily, then the thing for you to do is to tell it, regardless of whether it has to do with sex, sailors or mounted policemen."
― Dashiell Hammett
Ribbon Drive, by Avery Mcdaldno is a game built around mixtapes and road-trips. This story takes place over the course of two mixtapes. We all love making a mixtape, so the setup for this game was a joy. In this episode John gives a prompt at about 3 minutes 55 seconds to begin playing the mixtape in sync with the show, but it doesn't need to sync up perfectly.
Mixtape 1: Ribbon Overdrive
So Much – Madlib
Ninety Nine and a Half Won't Do – Wilson Pickett
Sea Foam – Land of Talk
Heart Attack of Love – Craig Werden*
Queen Bitch – David Bowie
Bumpin' – Wes Montgomery
Tighten Up – James Brown
Jane – Jefferson Starship
Big Empty – Stone Temple Pilots
Lawful Neutral (Live off the Floor) – Chamber Band*
Creep (Acoustic) [AOL Session] – Anberlin
Spiderman '79 – Veruca Salt
Flute Loop – Beastie Boys
Pusherman (Alternative Mix) – Curtis Mayfield
Money Folder – Madvillain
The Hop – A Tribe Called Quest
The Red – Jaylib
Zero Point (pt.1 & pt.2 – 45 Version) – Kashmere Stage Band*
Silence – Portishead
Down Under – Blonde Redhead
Knives Out – Radiohead
Tripoli – Pinback
Condor Ave. – Elliot Smith
I Me Mine – Beatles
Roadhouse Blues – The Doors
No Dice – Beirut
Who Got da Props? – Black Moon
Do you Know (Transition) – Madlib
*not on spotify- replaced with as close as John could get in the playlist above
---
The characters for this game:
Chip Hanley (Ken Breese) – Ex-cop turned P.I. is the personal fixit guy for the Dadeed family.
Charles Matz (Brian Jones) – Childhood friend of the Donna Wilson, bride-to-be, he is a recluse who still holds a torch for Donna Wilson.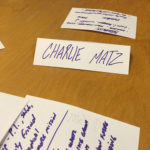 Phoebe Wilson (Stacey Douglass-Moverely) – Sister to Donna Wilson, she is not convinced that this union is the right thing for her sister.
Peter Dadeed (John Holt) – Youngest child of the affluent Dadeed family, he idolizes his older brother and groom Jacob Dadeed.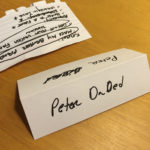 ---
Ribbon Drive's creator Avery Mcdaldno is an amazing designer who's work and dedication to story is one of the inspirations for us in starting this show.  Please explore her work on Buried Without Ceremony.
Find Ken on twitter @BerlingsBeard
Find John on twitter @LordJoho
Find Brian on twitter @alowroar
Find Stacey on instagram @stadomo
Follow us on twitter @boredghostworld
Our Bored Ghost theme song is by the amazing Pat Cupples, see his band website Hotels and Highways.
Bored Ghosts we hope you found some distraction from your eternity in the void this week!