Episode 010: Summer Lovin, pt2 (Fiasco)
EPISODE 010
Summer Lovin, part 2
Fiasco – Camp Death
FOLLOW on iTunes FOLLOW on Google Play
Previously:
EPISODE 009 // Summer Lovin part 1 // Fiasco
---
"If she were any quieter, she'd be dead!" – Sleepaway Camp (1983)
Previously: Vinnie and Derek find Lisa's dead body. The last time we saw her Virginia was going out into the woods to confront her.
The TILT: Guilt – someone panics & Paranoia – what seems like dumb luck isn't, things are afoot!
On a quiet lake in the height of summer, hormones aren't the only thing running rampant in Camp Henderson.  Join Ken Breese, John Holt, and Giaco Furino as they play Fiasco from Bully Pulpit Games using the Camp Death playset.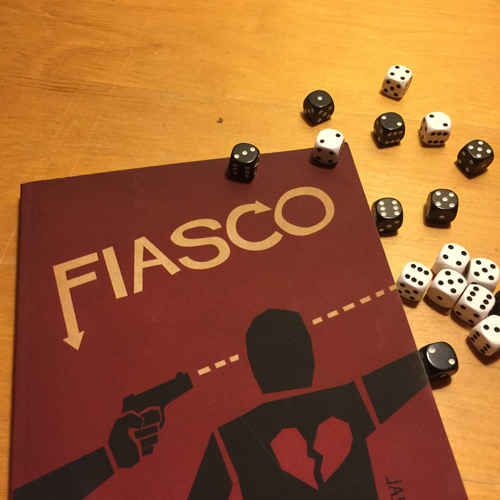 To learn more about how Fiasco is played check out our primer episode.
---
The characters for this game:
Derek DelVeccio (Ken Breese) – A love-struck teen camp-goer who is trying to impress the new counselor.
Virginia Majors (John Holt) – The blossoming college co-ed who just went from camp attendee to counselor.
Vinnie Desimone (Giaco Furino) – An ex-counselor who hangs around selling pot to the camp-goers, parents, and counselors.
---
The grid for this game:
Between Giaco and John: Stalker & Stalked – Giaco is the object of John's sick obsession.
Between Ken and Giaco: Dealer & Pot Head – Giaco has been selling Ken pot.
Between John and Ken: Romance, they made out once, while drink, as some stupid party.
There is a NEED to unearth the secrets at the heart of this town.
There is also a LOCATION element – a windstorm 
There is one OBJECT a pair of hedge clippers.
---
Find Ken on twitter @BerlingsBeard
Find John on twitter @LordJoho
Find Giaco on twitter @GiacoFurino
Follow us on twitter @boredghostworld
Our Bored Ghost theme song is by the amazing Pat Cupples, see his band website Hotels and Highways.
Bored Ghosts we hope you found some distraction from your eternity in the void this week!