Episode 001: What's at Stake? pt1 (Fiasco)
EPISODE 001
What's at Stake? part 1
Fiasco – News Channel Six
FOLLOW on iTunes FOLLOW on Google Play
Listen to part 2 here:
EPISODE 002 // What's at Stake? part 2 // Fiasco – News Channel Six
---
TV is no kiddy pool. Stop moving for a moment and you're chum. The apex predators of these violent waters are the action news teams.
Join Ken Breese, Brian Jones, and John Holt as they venture into the churning waters of local news. This week they are playing Fiasco from Bully Pulpit Games using the News Channel Six playset by Chris Norwood, Ken Coble, and Tom Gurganus
To learn more about how Fiasco is played check out our primer episode.
---
The characters for this game:
Clint Salisbury (John Holt) – The lead Anchor of Action Six News
Carley 'The Curl' Smith (Ken Breese) – The fitness guru of a Channel Six workout show
Brock Stone (Brian Jones) – The fledgling co-anchor of the Action Six News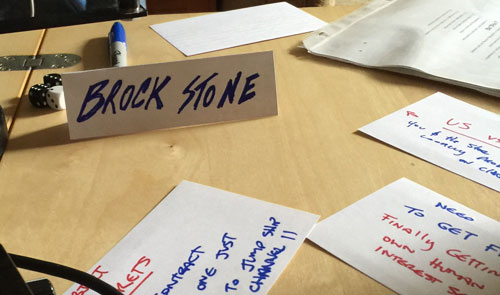 ---
The grid for this game:
Between Brian and John: they are both on the Action 6 News Team: one is the Tired Mentor the other an Ambitious Protege.
Between Ken and Brian: they are in an Us vs. Them relationship: and One is the star of another locally produced channel 6 show
Between John and Ken they are not fooling around, but everyone thinks they are.
There is a NEED to get famous by finally getting recognition of a human interest story.
There is also a NEED to make a difference by bringing down god's wrath on this wicked heathen society. 
There is one OBJECT in the mix: a secret- someone has a contract with another station. 
---
Find Ken on twitter @BerlingsBeard
Find John on twitter @LordJoho
Find Brian on twitter @alowroar
Follow us on twitter @boredghostworld
Our Bored Ghost theme song is by the amazing Pat Cupples, see his band website Hotels and Highways.
Bored Ghosts we hope you found some distraction from your eternity in the void this week!